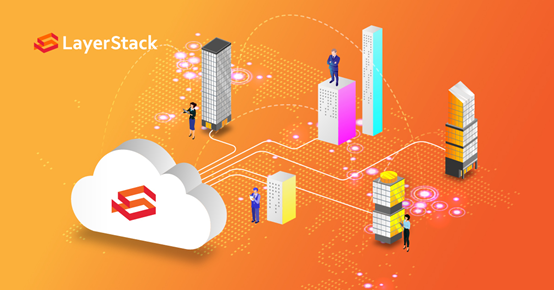 Ever since the rise of the interwebs and cloud technology, remote working has not been something new. That said, no one would have thought that it took a global pandemic to fully realize what that really means.
But even without the pandemic, Asian countries are poised to be the up-and-coming major hosting powerhouses of data. At LayerStack, we offer powerful, comprehensive cloud computing services that any company that looks to make inroads into Asia can benefit from, regardless of where you are based.
Reliable connection from everywhere
Data center location can be key when it comes to hosting speed and latency. If you are expanding your business in Asia, or expect that the majority of your traffic will be coming from the emerging IT hub, LayerStack is your best bet.
Our data centers cover both ends of the world. In Asia, we have data centers in Hong Kong, Singapore and Tokyo. Across the globe, we set foot in Los Angles.
Our strong network proposition in Asia means the advantage of predictable performance and high availability in the region, regardless of where you physically are. You can be sitting in the office in the heart of Downtown Los Angeles rendering 3D models for a Japanese client, lying in bed with a laptop in your cozy Manchester flat managing a retail website based in Shanghai, or sipping a glass of Margarita by the picturesque beach at sunset in Bali (hopefully soon…) writing a blog post about how thankful cloud technology allows you to work outside the office.
LayerStack is here for your business footprint expansion.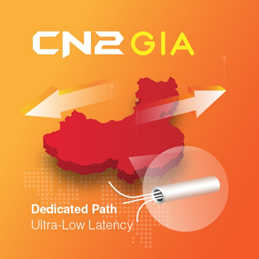 Add-ons that support access across Asia
China's sheer market size represents a lucrative potential for foreign goods and services, and it is a surprise to no one that businesses from around the world want a share of that pie.
To ease your entry, LayerStack offers direct connections to mainland China, courtesy of the – China Direct CN2 Route (CN2 GIA) add-on service. Available to all of our cloud server plans, the speedy and stable route is backed by top carriers in China for maximum stability and minimum latency. You can enjoy improved throughput and uninterrupted connection that covers nearly 200 cities in the country.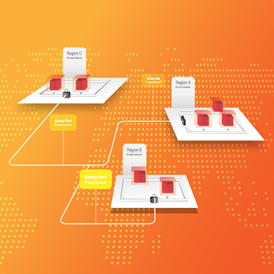 Privacy – or the lack of – makes or breaks your business. Knowing that, we offer a global private network for the sake of true data privacy. The network creates an isolated environment where your data is transmitted through a dedicated, high-capacity VLAN between instances – we call it a "Layer 2 connection", providing the best insurance against uninvited data breaches. This feature is especially useful when you need to rescue a server by transferring sensitive data from one instance to another, or storing confidential information of your customers in a database that is not publicly accessible. At LayerStack, we give you a secure network that you can trust.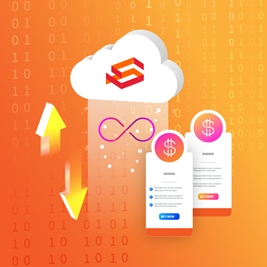 Unlimited traffic and transparent, predictable pricing
LayerStack's cloud packages offer unlimited data transfer – yes, you read it right – unlimited, all of them. Unlike Azure, AWS and Google where users are charged for every GB of data transferred, or Linode and DigitalOcean where transfer capacity is capped for every billing cycle, LayerStack promises unlimited bandwidth traffic, both inbound and outbound. When data usage reaches the "fair usage" threshold, our cloud service continues with a reduced network speed without taking away your right for data transfer or charging extra. That way, we help you keep your expenses under control.
If you have ever got a bill from your cloud service provider and got confused because the numbers don't quite add up, you are not alone. It turns out many cloud users find the pricing perplexing – charges for reserved instances, unmentioned cost for orphaned snapshots, hidden fees for additional customer support – you name it. On the contrary, LayerStack provides straight-forward price structures and absolute billing visibility. Every cost is clearly detailed and presented on our price lists and bills.
And there's more to that. LayerStack guarantees that you get the most bang for the buck with our cloud packages. Apart from free add-ons such as Templates for fuss-free scaling and provisioning, highly-customizable Firewalls that safeguard your environment and Automated Backups that spare you from disasters, we offer the best performance for our price among major hyperscale providers, as anointed by independent benchmarkers – VPSBenchmarks.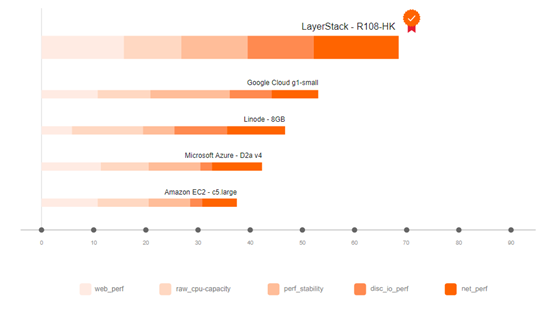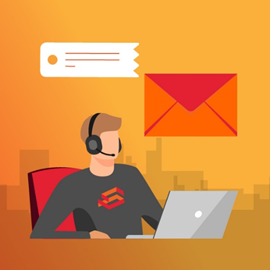 Quality performance and after-sales services
A lot needs to be dealt with when running a business in a new area, and we are glad to take it upon ourselves to make things easy for you and unload some of your burdens. You don't have to worry about deploying the system as we will do it for you – in just 1 minute. You head to the washroom, wash your hands properly (for at least 20 seconds please, with soap), come back and it's done.
Once the cloud service is deployed, you are ready to get down to business. Our service agreement guarantees a 99.95% uptime, because we understand how a service downtime can cost not only your business but also your reputation (remember what happened to Visa?). Just like our pricing, we are transparent about the performance of our infrastructure too. Feel free to run a speed test and check out our real-time system status. We simply have nothing to hide.
If something has gone wrong, panic not. Our tech experts are available 24/7, all year round, to answer any and all questions and resolve issues that you may encounter. Simply call us or reach us through our support ticket, live chat or WhatsApp in Cantonese, English or Mandarin.
We hope you'll give the new products and updates a try. If you have an idea for improving our products or want to vote on other user ideas so they get prioritized, please submit your feedback on our Community platform. And if you have any questions, please feel free to ask in the Community.