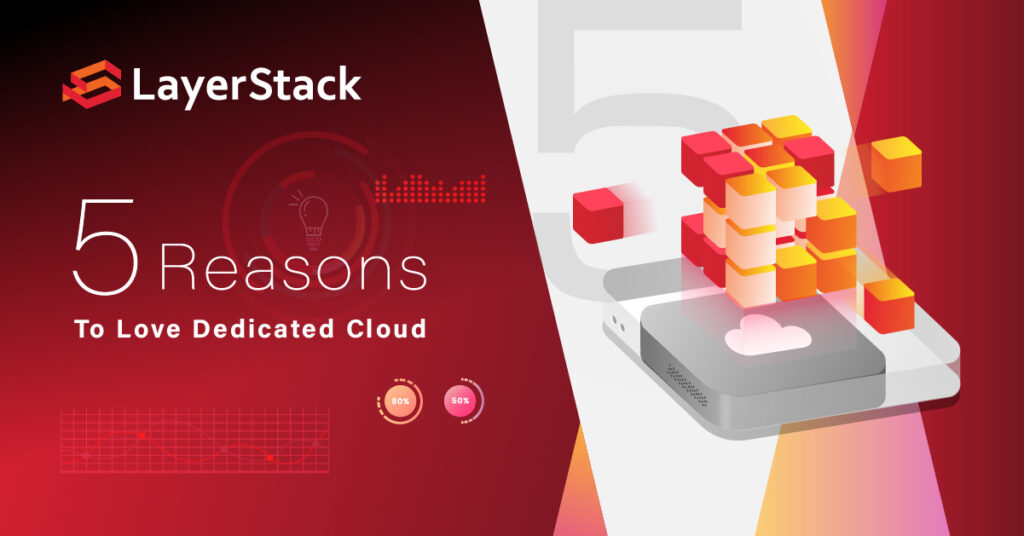 In case you haven't heard, we have launched a Dedicated Cloud server in both Hong Kong and Singapore markets, a new member of our product lineup that offers all the perks of LayerStack's cloud solutions and more utilization freedom over cloud resources.
Thanks to the unique infrastructure that uses your own hypervisor instead of a pre-assigned LayerStack one, this new solution allows you to create multiple separate compartments within a dedicated cloud environment as desired, bringing not only additional flexibility to allocate extra cloud space but also unprecedented benefits that open new doors to business possibilities.
1. Exclusive server resources in all aspects
While LayerStack provides dedicated RAM and disk storage in all cloud packages, Dedicated Cloud gives you full ownership of the server, allowing undivided CPU power, 100% bandwidth and full customization autonomy. Configure settings and manage access to your server however you see fit to better meet specific business needs. What's more, you can decide how to allocate your resources and cloud space by creating multiple isolated instances within your environment, granting all the flexibility you need.
2. Performance is more predictable and reliable
No one likes slow networks and laggy websites. With Dedicated Cloud, those will not be your problems. As the sole occupant of the cloud server, you are given 100% of bandwidth and CPU capability. This allows you to supervise traffic precisely, minimizing server overloads and crashes. For the same reason, your application will be more resistant to traffic surges. Even in peak hours, the website's performance stays smooth and responsive.
3. Make configuration changes anytime you want
Flexibility is the name of the game in the Dedicated Cloud world. Able to use your own hypervisor in the environment, you wield the power of freely distributing vCPU, RAM and other hardware components to as many isolated server compartments as you create. Create any combination of vCPU and RAM within your resources on hand to accommodate varying client needs and business development. Every change is only a few clicks away and can be done at your pace, anytime, anywhere.
4. Improved and tailored security
Being the only user of the server already gives you higher privacy, but the fact that you can configure firewall settings and access rights for each compartment that you create further minimizes DDoS attacks and other security threats in specific business scenarios. If your application involves handling sensitive data, or security is a priority of yours, hosting through a Dedicated Cloud server may just be your ticket.
5. Better SEO performance
Various factors contribute to the search engine ranking of your website. While opting for a shared server alone may not have a significant impact on SEO, uptime and load time do. When hosting through a Dedicated Cloud server, you have better control of these factors – high redundancy in the absence of neighbors sharing resources and zero bandwidth steal. Thus, there's no risk of your Google ranking being dragged by other users.
Want to know more about our dedicated cloud server options, please feel free to email us at [email protected].