Switching Deal for Existing Customers

Up to 6 months FREE with yearly plan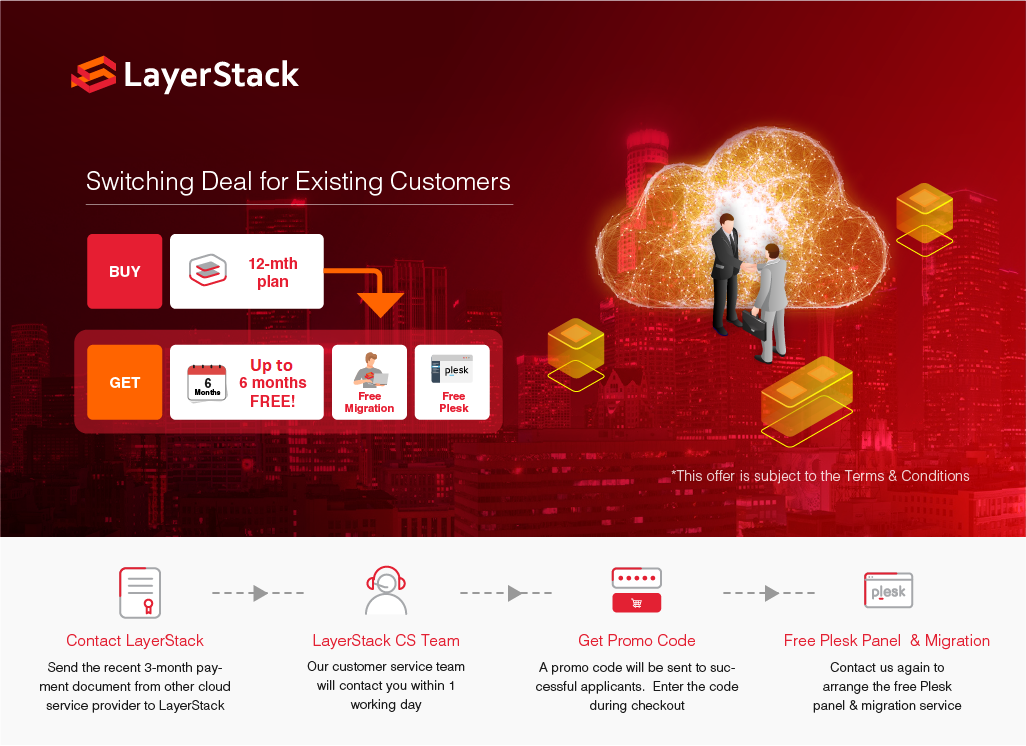 * Promotion Terms and Conditions
Who can entitle the promotion?
1) LayerStack active customers
AND
2) Not only using LayerStack service, but also cloud server service from other providers.

What information is required?
• A valid payment receipt or invoice of cloud server service in the recent three months issued by other cloud service providers

How to join the promotion?
1) Sending us a message via either one of below channels:

• Live chat or
• Send email to [email protected]

2) Our customer service team will contact you within 1 working day.
3) A promo code will then be generated and sent to successful applicants.
4) Enter the promo code during checkout.
5) Contact our customer service team for the arrangement of free Plesk & migration.

Information about Plesk:
Click here for more details.

Information about migration:
Click here for more details.

Terms & Conditions:
• "Switching Deal Offer for Existing Customers" is only valid to active LayerStack customers who have purchased LayerStack cloud servers on or before Aug 03, 2020.
• The promotion is valid until Aug 16, 2020.
• The offer is only applicable to 12-month LayerStack cloud server plans.
• E-copies of supporting documents (e.g. Confirmation email, Order invoice, Reminder from cloud providers, Other related email showing your purchases) must be sent to our CS team to exchangefor your the promo code. Our CS team will decide how much service charge can be waived and each customer can enjoy up to 6-month free service charge.
• Each customer can enjoy the offer once only.
• Offer is subject to availability and be given out on a first come first serve basis.
• Each entitled customer can enjoy the offer when inputting the specific code during checkout.
• Applicants need to contact LayerStack Customer Service team to claim the free Plesk Onyx - Web Pro Edition service after cloud deployment.
• Migration can be a complex process due to diverse uncertainties like driver compatibility, operating system version, etc. LayerStack provides reliable and free VM Import Consulting Service according to your VM situation within 30 days of Cloud Servers purchase. To make the migration process smoothly, LayerStack will help you to understand your VM conditions and any obstacles you may face when changing proviers, cross-hyerpervisor migration or any other matters relevant to your migration process. lease note that VM import is not guaranteed success due to technical limitations. Our migration team will assist you with limited consultation, as far as the VM booted and could be logged in to. The maximum number of file upload limit is 1; the file maximum upload size limit is 1000GB.
• The offer is not valid in conjunction with any other offers or promotions.
• In case of any disputes, LayerStack reserves all rights for final decision.