Data loss is a major inconvenience that disrupts the day-to-day function of any business. The most common causes of data loss of what we heard from our customers are "Human Error".
What is the Most Common Cause?
For businesses, human error is the leading cause of data loss. In fact, there are not as many security breaches, hardware failures, or data corruption as everyone imagined, and in most cases, employees have made mistakes in their work in some way. For instance, unintentional deletion of data files made by employees can overwrite important files or delete information that is critical to your business without realizing it.
There was one thing that happened to one of our customers recently, he accidentally deleted a primary database when he attempted to replicate the primary to the secondary location, so a huge amount of data was lost. Apparently, there are many such stories, but is it possible to reduce the chance of data loss with training? Yes, it is, but may not be completely avoided, as we cannot root out human error, so automatic backups could be a simpler way to reduce worry.
How Can LayerStack Help You?
LayerStack launches automatic backup at LayerPanel v2.0
LayerStack backups is a new tool that makes it easier for developers on the platform to back up their data from cloud servers at a single point in time. The automated backups will be run at regular intervals, allowing you to protect and recover your important business data. Moreover, backups are stored on separate and fault-tolerant external data drives within the same data center.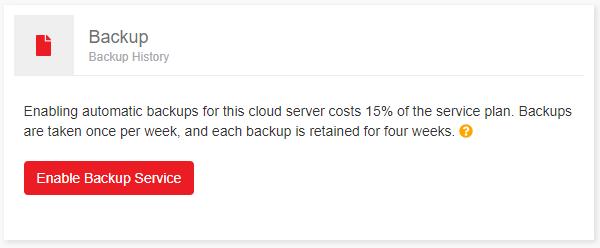 Backup Schedule
Backups are taken once per week, and the first copy will be taken on the second day after the backup service is enabled. Each backup is retained for four weeks. Maximum 4 most recent backups are stored on separate and fault-tolerant external data drives within the same data center. Older backups are rotated out after each scheduled interval.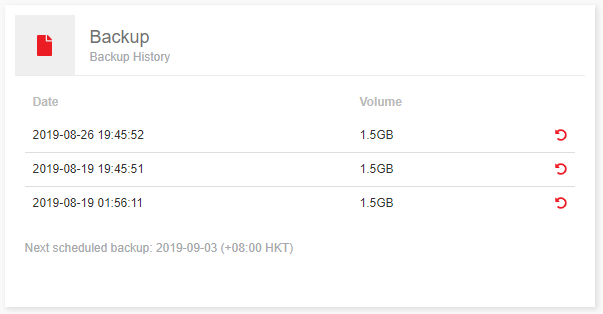 Simple Pricing
Enabling automatic backups for cloud server is now costs 15% of the basic service plan per month. You may visit our product documentation for more details.
Regional Availability
Backups are currently available for all cloud servers in Singapore and Japan regions. It will soon roll out in Hong Kong and Los Angeles regions in Q4 2019.
What's Next?
We hope that you love this release! Sign up for a free account at LayerPanel v2.0 if you are interested in this new feature! You can also read our backups documentation which explains in detail how backups work. More news and updates can be found on our blog.
Feel free to share your thoughts at our feedback page.
LayerStack