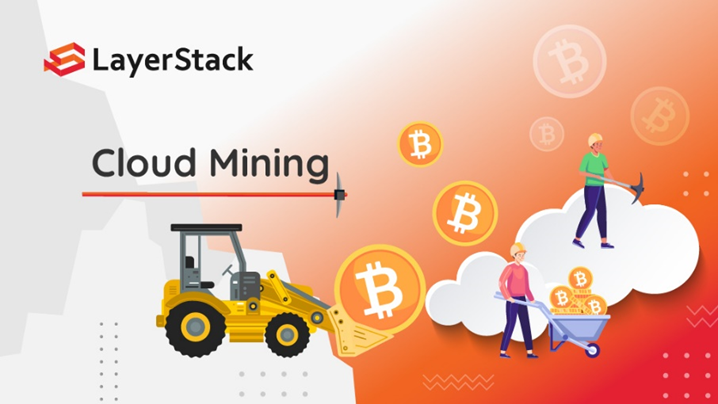 Did you know that you do not need to spend a fortune on computer hardware and create your own farm to mine cryptocurrency such as Bitcoin and Ethereum? Cloud Mining is the mining of cryptocurrency using rented cloud computing power without having to deal with the technical know-how of installing any hardware yourself. Users can easily participate in cryptocurrency mining by subscribing an account with LayerStack, and as a result made crypto mining far more accessible and profitable.
How Cloud Mining Relates with Cryptocurrency?
Cryptocurrency mining is the process of creating cryptocurrency on a blockchain by using computing power to validate user-initiated transactions. Miners participating in this validation process are rewarded in the native cryptocurrency of that blockchain for their efforts.
When cryptocurrency miners add a new block of transactions to the blockchain, it is essential to verify that those transactions are indistinguishable from payments to other entities. In other words, bitcoin miners have to make sure that bitcoin is not being duplicated, and thus not able to "double-spend" their own bitcoin.
What Are the Types of Cloud Mining?
There are three major types of cloud mining models, namely Hosted Mining, Virtual Hosted Mining and Leased Hash Power:
1. Hosted Mining: Hosted mining is the most popular form of cloud mining. This model allows a provider to build and lease/sell mining equipment directly to a customer.
2. Virtual Hosted Mining: Virtual Hosted Mining is a hybrid approach to cloud mining. To do this, one must use a personal virtual server and install mining software on it.
3. Leased Hash Power: Miners lease a portion of the hashing power that a mining farm generates. They subscribe to a plan offered by the cloud mining company to receive a share of the mining farm's profit.
What are the Benefits of Cloud Mining for bitcoin?
1. Easy Setup: all you need is a computer, your choice of bitcoin wallet and subscribing to LayerStack's cloud server, and a reasonably higher level of technical know-how.
2. Eco-Friendly: cloud mining means zero noise pollution from humming fans.
3. No High Electricity Bills: you will save an upfront electricity cost with no need to mine on physical servers.
4. No Expensive Hardware: cloud mining does not require any expensive hardware like GPU or mining rig.
Cloud Mining for the Future
If you want a truly hands-off investing experience, cloud mining is the way to go and has never been easier! With LayerStack cloud servers, global miners are not only betting on a greener world, but they are also betting on faster and secure mining.