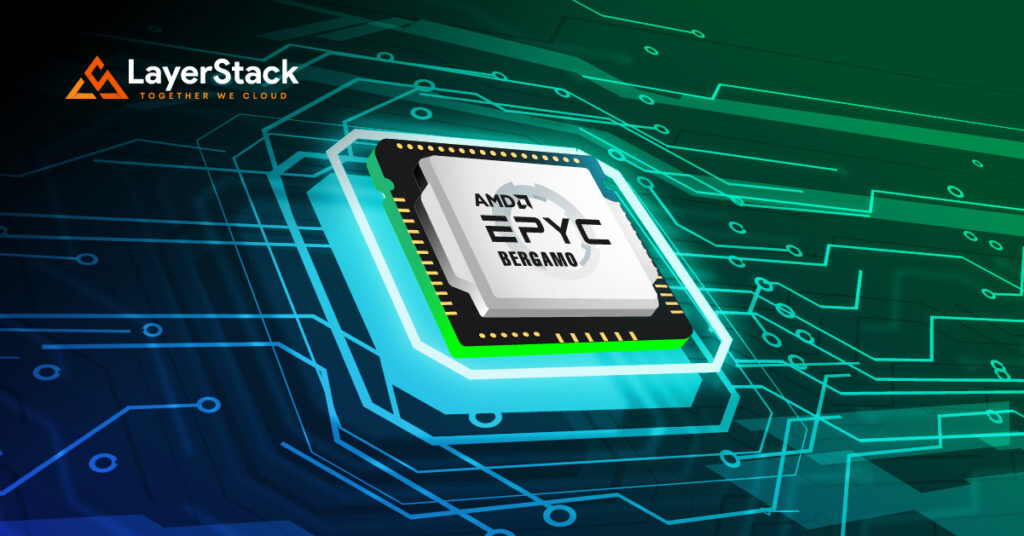 Modern CPUs have a glaring problem and AMD has initiated its efforts to remedy the issue. The AMD EPYC Bergamo is the company's newest chip that offers up to 128 cores in a single chip. Unlike the prevailing trend of making bigger and faster CPU, AMD is venturing into uncharted territory. This marks the inception of x86 CPUs venturing into the domain of cloud-native computing, a realm previously dominated by Arm CPUs.
With the unveiling of its 128-core Epycs, AMD Bergamo has put forward a challenge to Intel's 144-core Sierra Forest chips, which introduce Intel's Efficiency cores (E-cores) into the Xeon data center lineup, as well as Ampere's 192-core AmpereOne processors.
As data centers adapt to the demands of cloud computing, the surge of high-performance computing (HPC), the requirement for immensely powerful chips, the transformative influence of AI across various sectors, and the ascendancy of cloud-based software and infrastructure services all become prominent.
Unlike earlier times, relying on a singular approach to cloud computing would not suffice for tech giants like AMD. Both AMD and Intel are now offering tailored solutions for specific cloud-related tasks, in addition to general performance CPUs.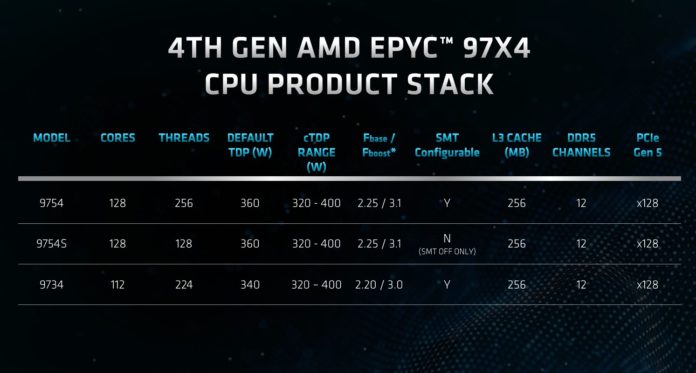 AMD's Genoa-X and Bergamo processors are both founded on the Zen 4 architecture that was introduced with Genoa the preceding year. Genoa-X, an enhancement of Genoa, incorporates an extra layer referred to as 3D V-Cache. This technology, also employed in AMD's Ryzen X3D processors for gaming, substantially aids in resource-intensive operations involving extensive datasets, which are typical of numerous HPC tasks.
Bergamo is a bit different. It currently reigns as the highest core-count x86 CPU, providing a remarkable 128 cores and 256 threads while boasting a base clock of 2.25 GHz and a boost clock of 3.1 GHz.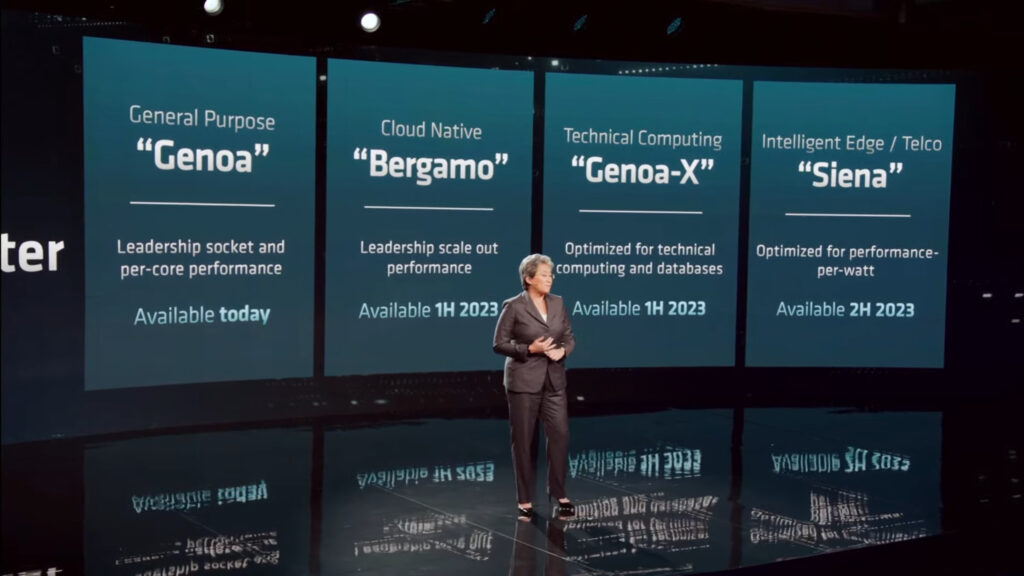 Bergamo utilizes TSMC's 5nm and 6nm nodes for its compute and I/O dies, coupled with a refined version of the Zen core architecture named Zen 4c. This architectural modification enabled AMD to incorporate 16 cores into 8 compute dies. Consequently, Bergamo not only benefits from more efficient process technology but also showcases a novel core design that's supported by faster memory and I/O, including PCIe 5.0 and 12 lanes of DDR5, in contrast to Altra's PCIe 4.0 and eight lanes of DDR4.
Apart from the initial benchmark results, additional assessments have emerged illustrating its exceptional performance in applications reliant on multi-threading and multiple cores.
In the renowned V-Ray 5 benchmark, a single 9754 processor surpasses the performance of 2 Xeon Platinum 8490H CPUs, which are currently Intel's most advanced and costly models featuring 60 cores and 120 threads, with a combined retail price of around $34,000.
In a more enterprise-focused benchmark, SPEC CPU 2017, a dual-socket EPYC 9754 exhibits superior results compared to a four-socket 8490H, while consuming roughly 40% less power under maximum load (in addition to an idle power consumption of just 117W).
The Remarkable Features of the AMD EPYC 9754
Between the launches of AMD EPYC "Genoa-X" and "Bergamo," the latter, Bergamo, emerges as the more impactful one, an assertion that carries weight considering the positive reception of Milan-X and Genoa-X by Microsoft Azure. Let's highlight a few key aspects:
The primary alteration for Zen 4c cores in comparison to Zen 4 involves a halving of L3 cache.
The AMD EPYC 9754 displays performance approximately three times that of a 128-core Arm competitor, while consuming 1.5 times the power.
The AMD EPYC 9754 often exhibits twice the performance of the 2019 AMD EPYC 7002 "Rome" 64-core processors.
Across most workloads, the AMD EPYC 9754 is projected to be 15-20% faster than the AMD EPYC 9654, despite a significant reduction in L3 cache size due to the increased core count.
AMD seems to have effectively addressed turbo clock jitter, particularly under maximum load, which greatly benefits service level agreements (SLAs) on heavily loaded systems.
Cloud-native processors are poised to constitute a substantial portion of the market.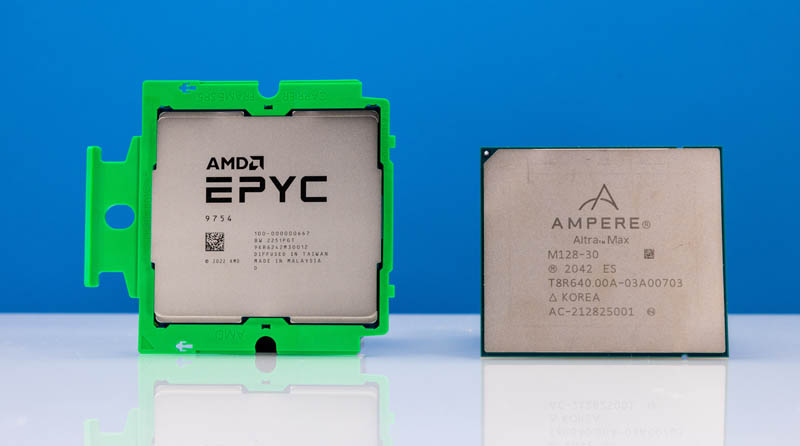 Forecasts suggest that within the next five years, 25% or more of the CPU market will be dominated by high-core count cloud-native CPUs, a notable increase from the current low single-digit percentage. AMD's strategy is remarkable in several ways, exemplified by the question of why the AMD EPYC 9754 requires AVX-512 extensions.
Other cloud-native processors have relinquished floating-point performance in favor of integer performance. AMD's distinctiveness lies predominantly in cache size.
While the new AMD EPYC Genoa-X model showcases considerable merit (as evidenced in the accompanying charts), it is Bergamo that will undoubtedly capture the industry's attention. Serving as a seamless substitute for existing x86 chips, Bergamo eliminates the need to shift to Arm architecture. AMD's conservative 3.1GHz threshold reduces clock speed fluctuations while delivering consistent and commendable performance. Notably, cloud-native processors constitute a larger share of the market, which inherently elevates the significance of Bergamo.
In summary, AMD's EPYC processors have been ingeniously designed to cater to the exacting demands of contemporary cloud computing and resource-intensive operations. Whether it entails incorporating more cores or efficiently handling vast volumes of data, these processors offer a comprehensive solution.
In the realm of cutting-edge computing solutions, LayerStack's 'premium compute' plan stands out as a true game-changer. Leveraging the immense power of AMD's latest EPYC™ 9754 Bergamo processor, this plan unleashes unprecedented levels of throughput. Whether you're delving into high-performance computing, running web servers, managing gaming servers, compiling code, or handling other CPU-intensive applications, the 'premium compute' plan takes performance to new heights.
Experience the future of computing power firsthand and discover how the AMD EPYC™ 9754 Bergamo processor is transforming the landscape of computational performance: