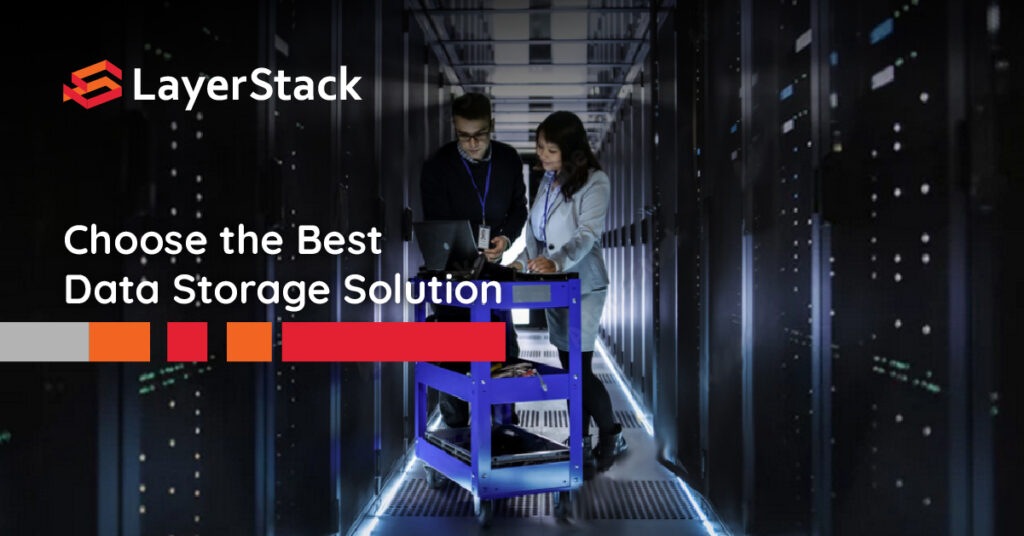 Data is one of the most valuable assets for today's businesses. An efficient and well-sorted data storage solution is a key requirement more important than ever. With ever increasing number of global companies embrace data-driven decision-making, they heavily rely on the data storage methods to ensure business continuity and scale up their businesses. Since data is so important, it is crucial to find the most appropriate data storage solution for your needs.
What is Data Storage and Why is it Important?
Data storage is the collection and retention of digital information using technology specifically developed to keep such data and have it as accessible as necessary. It is also the central component of data management with common forms in file, block, object and cloud storage – and each being ideal for different purposes.
A reliable and secure data storage would not only allow your business to make better decisions but also help to thrive and grow. Depending on the type of data stored, you can leverage it to improve customer experience and drive more revenue, given that you excel in storing and managing the data.
Main Types of Data Storage
There are a few types of common data storage used in the business world, with each solution having its advantages and disadvantages. Below are some data storage solutions that you may consider for your business model. It is important to bank on scalable storage solutions that are responsive to the dynamics of your company.
1. File Storage
File storage stores data in a hierarchical architecture. Since files are stored in both front and back ends, users can request files by unique identifiers such as names, locations, or URLs. Thus it is in human-readable storage format.
2. Block Storage
Block storage, as opposed to file storage, is a block-level data storage service that splits storage volumes into individual instances known as blocks. It is often used in workloads where network-based, low-latency storage operations are required, for example virtual machines, RAID implementations, databases, etc.
3. Object Storage
Object storage is a hierarchy-free method of storing and managing data as distinct units called objects. It is commonly used to manage and store massive amounts of unstructured data such as Netflix videos, Spotify songs, Dropbox files or Instagram images.
4. Cloud Storage
Cloud storage is a cloud computing model in which the digital data is stored and saved to an off-site location that you can access via the Internet. Since the Covid-19 pandemic in 2019, cloud storage is quickly becoming the go-to data storage model for businesses of all sizes around the world.
5. Hybrid Cloud Storage
Hybrid cloud storage combines both public and private cloud environments. Data was initially stored in local machines on premises, then in public clouds, and became hybrid when the data are met.
6. High Storage Cloud
Large Hard Disk Drive (HDD) storage offers ample amount of space of storing for all your data. It works excellent for applications that require to read/ write a lot of data while performing computations and at the same time perform high I/O requirements.
Choosing the Backup Storage Types
Now that you are familiar with the types of data storage, you will have to determine which one is best for your business. Please take into the account the below persona and ask some questions before making your decisions:
1. Direct Attached Storage
Direct Attached Storage (DAS) is a dedicated digital storage device attached directly to a server or Personal Computer via a cable.
Questions-to-ask:
– Do you want a server storage solution that is tolerant to hardware failure?
– Are the requirements of your business data modest and there is no need to store mission-critical data?
2. Network Attached Storage (NAS)
Network-attached storage (NAS) is a file-level computer data storage server connected to a computer network providing data access to a heterogeneous group of clients.
Questions-to-ask:
– Is your office secure from physical threats and has redundant networking?
– Are your data storage complicated and fast expand on a regular basis?
3. Cloud Storage
Employees have become accustomed to working at home and the adoption of the hybrid workplace. If you need cloud deployment for your office:
Questions-to-ask:
– Do you need a storage solution without an expensive hardware bill?
– Does your business data require protection from damages such as fire, flood or other tragedies?
4. Hardware Selection
Consider your hardware selection. Think about your hardware needs and this will get you started on the right track and likely to save you time and cost.
Questions-to-ask:
– Is Internet speed important to you?
– What is your connection speed and network architecture?
5. Memory
Data storage servers are generally not memory intensive. To facilitate operating system usage and other application performance on the server, you are recommended to employ high storage cloud servers.
6. Processor
For most business data storage projects, the processor that you choose may not be a critical component in the hardware selection process. It is important for you to know the differences in processor capacity, cores and threads.
Maximize Space to Store Your Data with LayerStack's High Storage Cloud Servers
You are now familiar with the various types of storage servers and the hardware considerations relevant to each. We would encourage you to make a list of your questions and book your free consultation with LayerStack's technical team. We will help you to set up the more suitable high storage cloud server for your company within budget.
LayerStack provides high-performance, SSD accelerated high storage platform for companies of all sizes. Whether in terms of uptime, competitive SLAs, or flexible hosting plans, we have it all covered without any issues. Our fully-managed high storage dedicated servers with Windows and Linux hosting provides you with a robust infrastructure that has everything from maintenance, backups, disaster recovery, server configurations, optimization, affordable price and plenty of options to choose from.
For more on Cloud Server, Dedicated Cloud and the latest tech trends, please follow us on Facebook or LinkedIN. Should you have any enquiries regarding our High Storage Cloud Server solutions, please feel free to email us at [email protected].